Nursing Scholarship Essay Help
Writing a winning nursing scholarship application essay is an endeavor every nursing student would wish to achieve.
A nursing scholarship essay is an essay paper submitted by nursing students along with their scholarship application letters. It forms the most fundamental part of one's application. The essay paper can either help you win or lose the opportunity to get the scholarship successfully.
A good scholarship essay paper should make your application stand out. Such ensures that you are able to provide the evaluation committee with a sense of who you are, the goals you aim to pursue, as well as what makes you deserve to be awarded the scholarship position.
Scholarships are super competitive since many applications are usually received are one given time. As such, there is always a high likelihood that the reviewers may not even have time to read the entire essay paper that you submitted. That is why it is very essential that one ensures their first sentences make the hugest impression about their entire essay paper. Such an instance is often the best chance to convince the reader to continue reading throughout the entire essay paper.
In a way, such expectations may sound stressful but rest assured that the introduction is your best tool to get you closer to being awarded the scholarship position. Luckily, our company has committed to helping students towards overcoming such stressful situations when they aim at producing excellent scholarship application essays.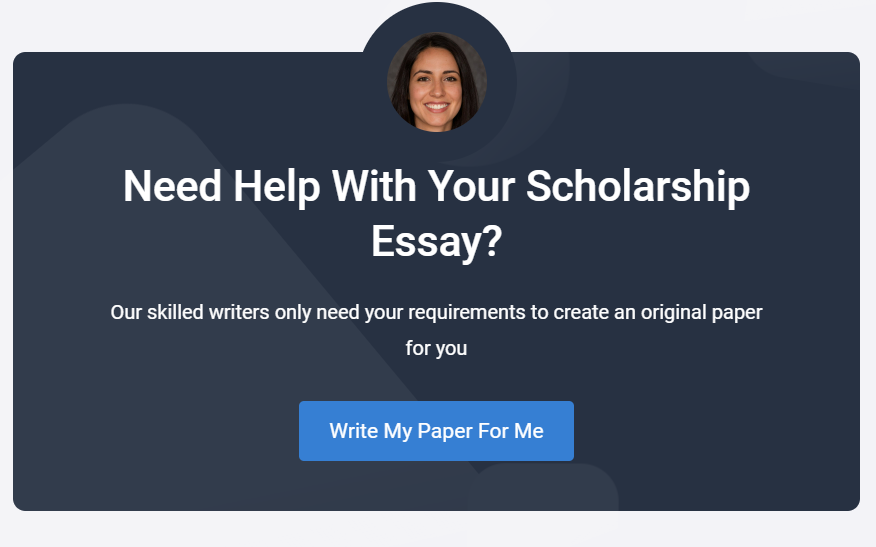 Generally, the outline of any scholarship essay should have the following attributes:
Introduction
A sensational hook that captures the reader's attention  with interesting statements and ideas
Thesis statement (why do you feel that you deserve the scholarship?)
Body (Nursing Scholarship Essay Help)
The significant challenges experienced in your life?
How did you overcome them?
What is/are your current educational and career goal(s)?
The reasons you choose this particular college or university?
The reasons you choose this field of study?
How do you think that the scholarship will help you to achieve your educational goal(s)?
What is/are your long-term career goal(s)?
What do you plan to do with your degree?
How will the scholarship help you in achieving your long-term career goal(s)?
Real-life examples that support the main arguments
Conclusion
Briefly summarize your key points
Restate the thesis (how the scholarship will help you reach your goals)
Ask for help! No need for Struggling to Write Your Scholarship Essay!
Nursingessayservices.com understands that writing scholarship essay papers can sometimes be a challenging undertaking. Coupled with limited time and a lack of expert knowledge on producing top-notch essay papers,  our Nursing Scholarship Essay Help comes in handy for many students. On top of that, you enjoy many benefits such as having your paper formatted correctly, and checked for plagiarism, and any grammatical mistakes. You can never be wrong with us. Trust our Scholarship Essay Experts to get the work done.